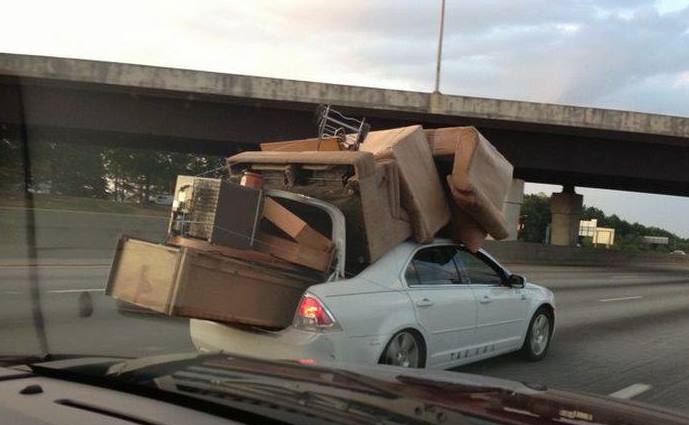 Moving is not fun.
If you are moving into an apartment, before you do anything, think. Usually you'll be signing a one-year lease which means it expires the same time of year you moved in. If you don't want to be moving in the winter now, you probably won't be too thrilled about it next time you have to move, either. Similarly, if you dread the idea of moving out in the heat and humidity of summer, don't move in during the summer.
Something to think about.
When you are narrowing down your options, try to choose an apartment with a ground level access door directly in and out of your apartment rather than having to bring all of your furniture in through the lobby, down the hallway, possibly up an elevator, etc. That will be handy through the years with groceries, and whatever else you'll be bringing home once you're settled in.
If you are planning your move, the idea of being finished and settled in probably sounds pretty darn good. But let's not jump ahead.
Recruit friends or relatives to help you move. Mainly for the big stuff. The furniture, small appliances, the really big boxes. Ask ahead of time, but not so far ahead that they couldn't possibly know what they will be doing on that day. They're not RSVP'ing for your wedding. They're doing you a favor. But do try to have someone reliable in mind so you're not left hanging.
Expect setbacks. Anyone who has done it before can tell you it's not usually a seamless operation. So if you are getting help from friends or family, have back-up plans in case any of them can't help when the time comes. Odds are they'll come through for you. And when they do:
Remind everyone to lift with their legs, not their back.
Buy them a pizza for their time and effort. A really nice pizza.
When you start moving your smaller items and boxes, try to take as much as possible in each trip but not to the point that it's ridiculous or unsafe (see photo above). Packing efficiently is a tactical, strategic operation requiring almost military precision and forethought. But don't let it overwhelm you.
Speaking of which, if you are moving with a spouse or partner, packing and moving can be an exercise in teamwork, but it's no recreational activity. It does get stressful. Invariably one of you may feel like you are doing more than your share of the work. Talk it over first, so you both know what the other expects of you. Don't turn on each other. You're in this together. Remember, you have a common enemy in the situation. Usually it's physics. Moving your entire life from one location to another is hard work!
Most importantly, be sure if you are going to move that it is the place you love. If you are only moving across town, and you already have a job, but the location of your new home will require you to find new employment, settle on your home first and then look for a new job. You can handle a longer commute for a short time. Your home will most likely be more permanent. So be sure you get that right.
Oh, and even more important than that, don't forget insurance. You can transfer renter's insurance to cover a new apartment without having to get a new policy. Just remember to update your contact information with your agent! If you're buying a home, though, that's different. Your homeowner's insurance will need to be completely new. And either way, if your commute will be significantly different, your auto insurance will be affected. Give your nearest Horihan Insurance agent a call and set up a consultation.
Good luck with your move and enjoy your new home!